You can own a piece of hand-carved lettering by Frank Raw. If you would like to have one of the pieces shown here, just drop me an email and it can be with you in a couple of days. UK shipping costs as quoted, for shipping elsewhere, please ask.
Work For Sale
Here I Stand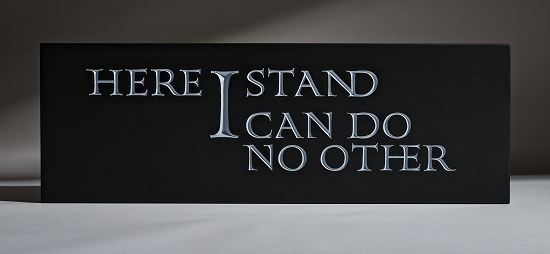 Hand carved Roman letters on black Welsh slate, the letters painted and the surface oiled. 35 x 16 x 2.5 cm. An alleged (i.e. untrue) quote from Martin Luther at the Diet of Worms, but a strong statement all the same. £335 plus £15 UK shipping.
Dead as a doornail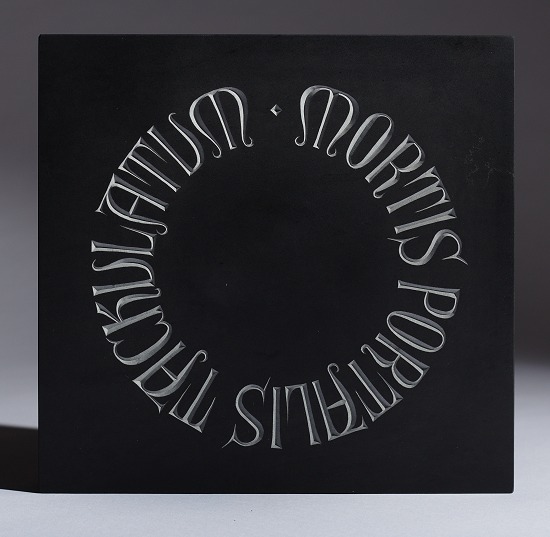 Hand carved Florentine Lombardic letters on oiled Welsh black slate. 23 x 23 x 3 cm. Terry Pratchett fans everywhere will recognise his use of Latatian. £295 plus £15 UK shipping.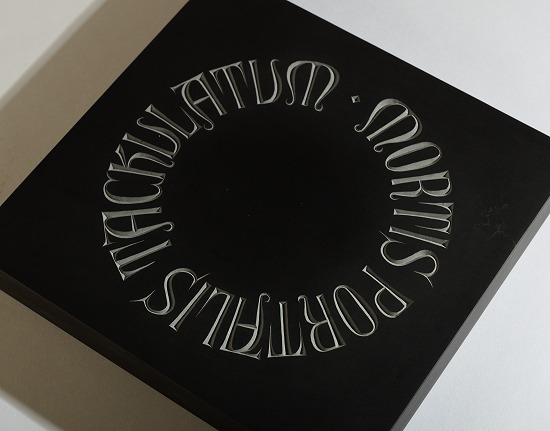 Senatus PopulusQue Romanus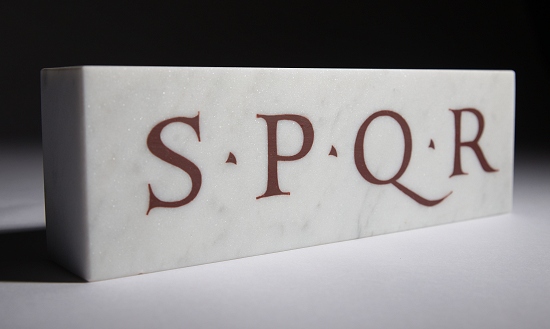 SPQR hand carved, V-cut Roman letters on a block of Italian marble, 28 x 8 x 5 cms. Filled flush with brick-red resin. £120 including UK shipping.
Negative
If NO isn't good enough, turn it around and give them the definitive NOPE. Hand carved lettering front and back on Hopton Wood limestone. 24 x 7 x 4 cm. £110 including UK shipping.
It's not the cough that carries you off, it's the coffin they carry you off in
Hand made coffin paperweights (large 12.5cm long, small 10cm long). I have a variety of stones - Hopton Wood limestone, red sandstone, grey sandstone, Pietra Serena, marble and Welsh slate. Small £20, Large £25. Plus £3 P&P.
An AMPERSAND
Hand carved, painted and oiled Welsh slate AMPERSAND. 33 x 8.5 x 3 cms. £195 inc UK shipping.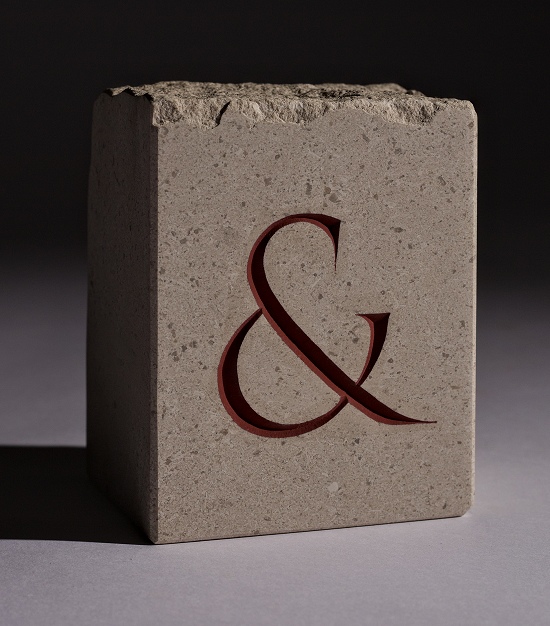 Hopton wood limestone, hand carved with an &, inpainted brick red. 9 x 11 x 7 cms, 1.75 kilos. Makes a great bookend. £50 including UK shipping.
Everyone likes Pi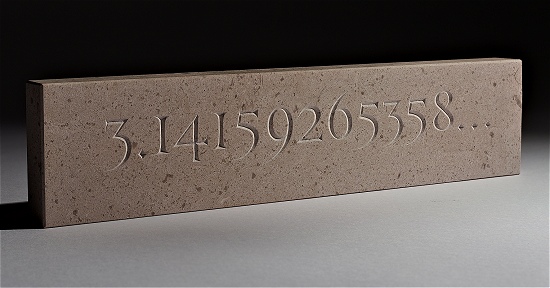 Pi, aka Archimedes' Constant, being the ratio of a circle's circumference to its diameter. The mathematician in your life wants this. Hand carved Hopton Wood limestone. This piece stands on its own and is 35 x 8 x 3cms, about 2.2 kilos. £141.59 (geddit?) including UK shipping.
Do or Die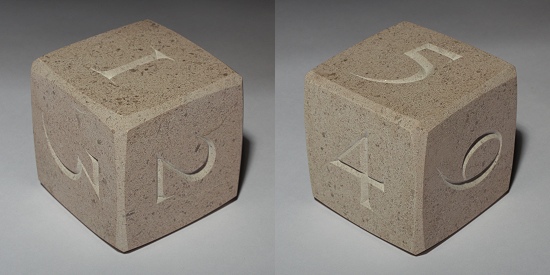 Hand carved digits on a Hopton Wood limestone die. 7.5 cm cube. £135 including UK shipping.
Esperanza means Hope
Esperanza is my favourite Spanish word. Hand carved hope in blackletter on Hopton Wood limestone. 36 x 7 x 3 cms. £150 including UK shipping.
What Fresh Hell Is This?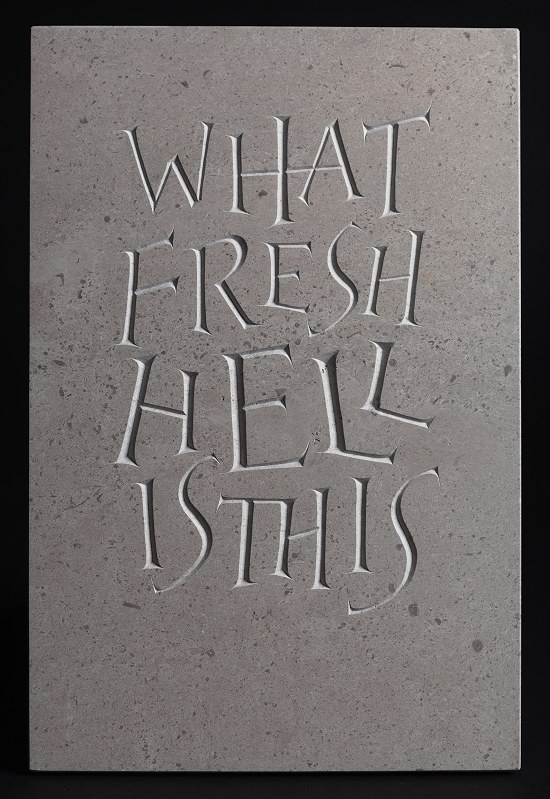 Dorothy Parker allegedy answered the phone with this line. Hand carved, free form Roman letters on Hopton Wood limestone.
This piece hangs on the wall (straight, skew left or skew right), and is 38 x 25 x 2 cm. £295 plus £15 shipping.
Swearing
I'm sorry, my mother would be so ashamed, but I swear - in stone. Arse has been the most popular and I usually have a couple of variations in stock. Other swears can be carved, no words too obscene. Email me if you really need some heavy cursing.
Arse
Hand carved lettering on Welsh slate, painted and oiled. 23 x 9.5 x 3 cm. £145 including UK shipping.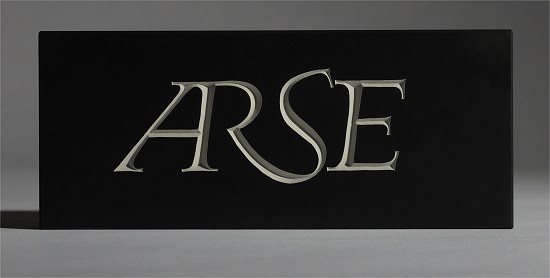 A bold arse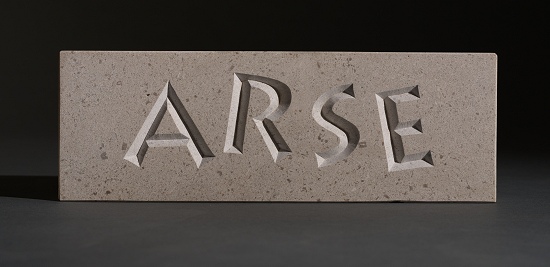 A bold hand carved arse on Hopton Wood limestone from Derbyshire. 23 x 8 x 2.5 cm. £95 including UK shipping.
Tosser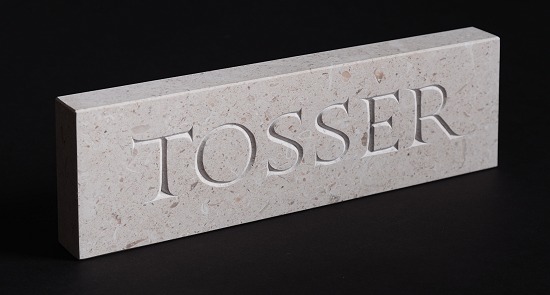 Mrs Raw's favourite swear. I don't know why. Hand carved lettering on Aurisina limestone. 26 x 8 x 2.5 cm, 1.3 kilos. £100 plus £10 shipping.
© Copyright Poor Frank Raw, 2020